— Tournament Pro Goes In-Depth on Frog Fishing Tactics —

MLF Tour (and now Bass Elite) Pro Josh Douglas is still attempting to eclipse the 6-pound largemouth that smashed his frog a few weeks back while fishing close to home one morning in Minnesota. Rest assured, he's having a blast sifting through smaller fish with the newly redesigned G. Loomis IMX-PRO Frog rods trying to top that trophy. G. Loomis designs IMX-PRO Frog actions with a soft tip for effortless casts and working baits, matched with gobs of power through the bottom of the blank for positive hooksets. In other words, they're the perfect tools for targeting lunker bass on top.
What is it about frog fishing that keeps you coming back for more?
Frog fishing is addictive: I've been slinging a frog ever since I got into bass fishing, and it's those topwater explosions that keep me coming back for more. When guiding, frogging is often my clients' first experience hooking into a largemouth. Many of our natural lakes have pads, so the frog is a realistic presentation to trigger fish to bite. They enjoy it so much that I've received emails saying that they'd bought fully-rigged bass boats after our frog fishing charter. Addiction happens quickly, and I totally get it!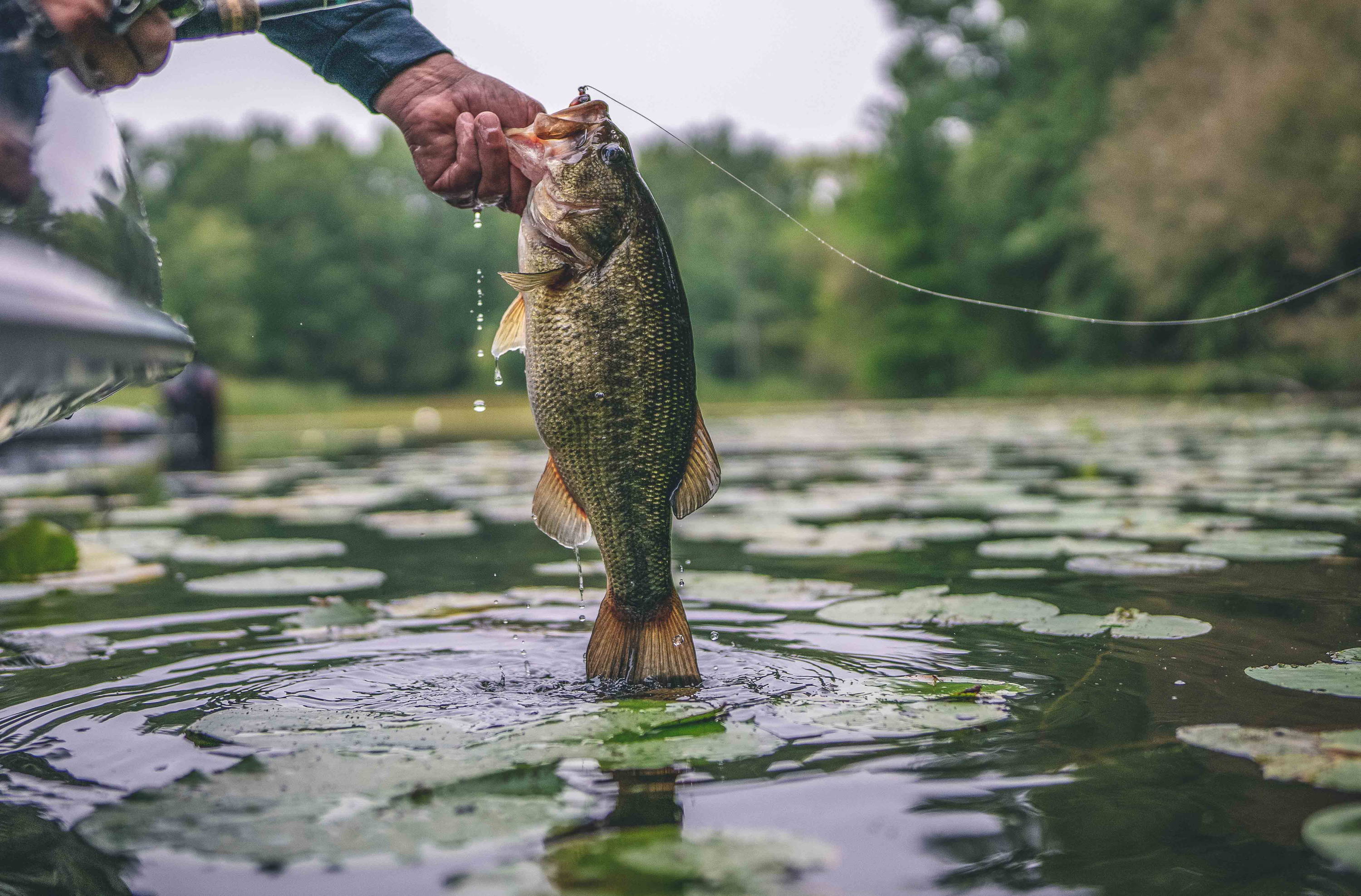 What is your first memory of fishing a frog?
I didn't have a "real" bass boat when I was a teenager, so fishing vegetation was tricky. I had to stay on the edge of cover without going into it. Throwing a frog was effective because I could cover the zones that I couldn't maneuver into with my boat. It also gave me the ability to fish Minnesota's lakes and swamps all day. It's no secret that frogs average better quality fish than those caught on other lures — add in the explosive strike, and that's what it's all about.
If you could fish anywhere during prime frog fishing conditions, where would it be and when? 
Close to home — somewhere in Northern Minnesota — when it starts getting chilly and you can target that last bit of vegetation. The Mississippi River has duck weed mats where you can catch both smallmouth and largemouth on a frog.
Also, Southern lakes like Guntersville can light up when the water level drops and hydrilla mats become exposed. October's almost always excellent, no matter where you fish, because of the mats created by the dying vegetation.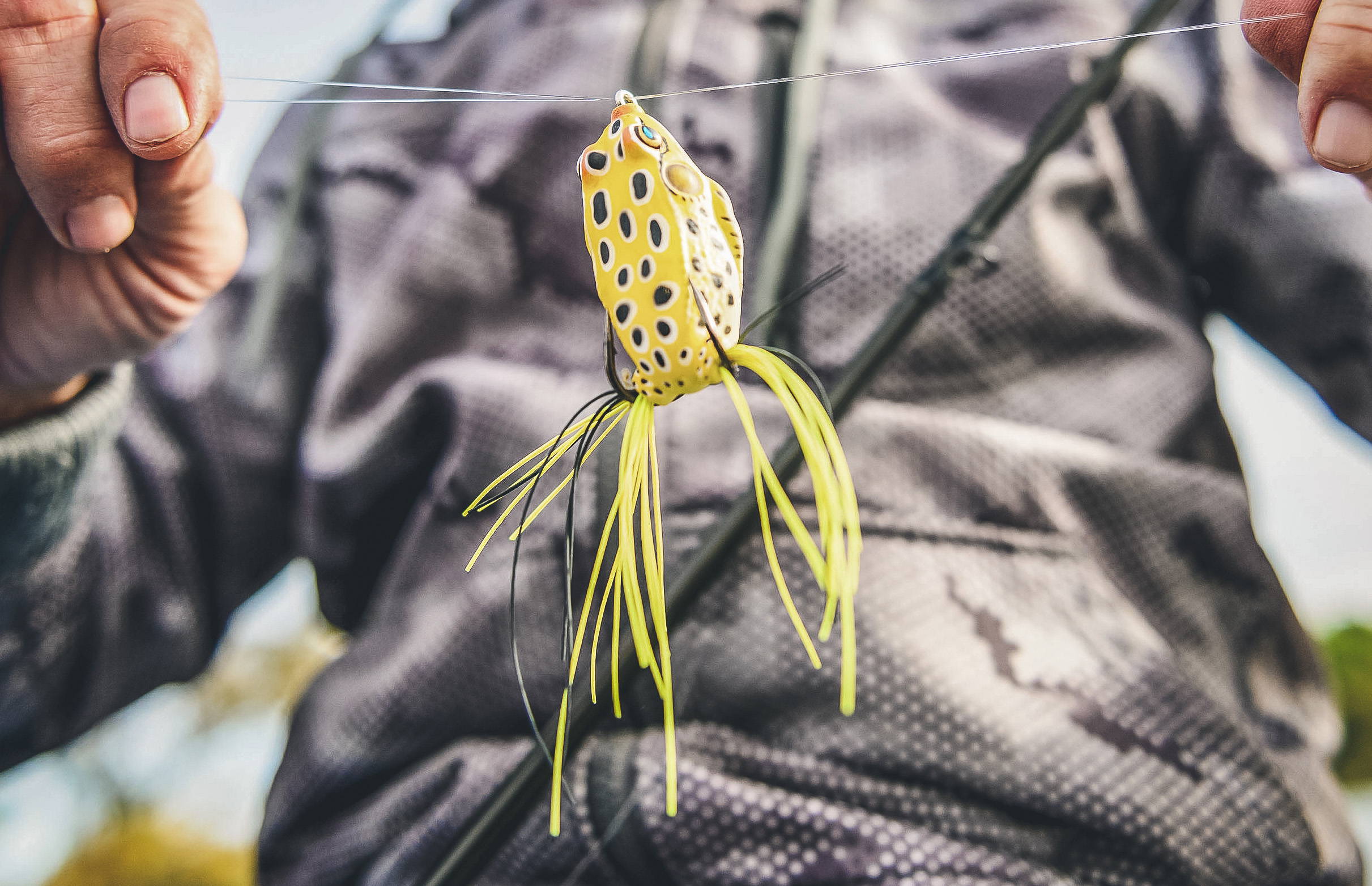 What are the qualities of a good frog? How do you choose between a popping frog and a standard all-purpose frog?
A good frog requires the plastic to be soft enough to easily collapse around the hooks so that you can ensure a solid hookset.
The only time I won't throw a popping frog is when fishing around heavy mats, vegetation, or lily pads. If it's possible to walk a hard plastic popper in that area, I'll throw the popping frog. However, around thick-matted vegetation, a standard frog excels.
Keep your color choices simple with dark hues like black, brown, or bluegill. You can also throw a white bait when shad are present.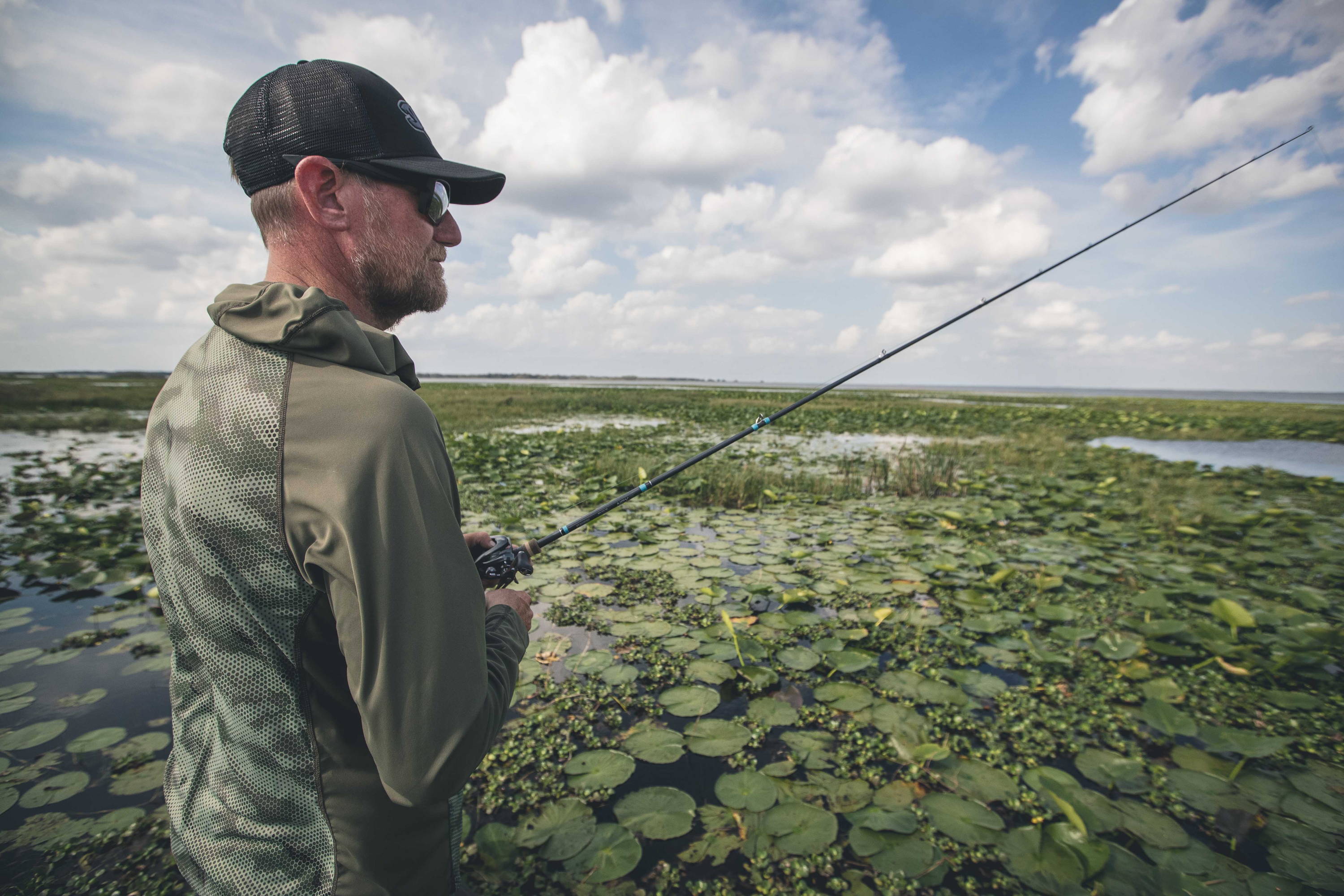 Many anglers are intimidated when they see vast areas of vegetation and slop mats. How do you break these areas down? 
The Mississippi River, the lakes in Florida, and those in Northern Minnesota all have huge expansive areas of vegetation, and those fish are usually locked into one spot.
I want to hear the bluegills popping on the surface when fishing vegetation because I know the largemouth will be right behind them since that's their food source. The popping frog is great when I see shad or bluegills up on the bank, cruising shallows, or grouping around docks or laydowns.
Many times, I'd throw a frog in an area that other people would probably flip or pitch. Instead, I'll hang back and cast from the perimeter with a frog and then flip the area once I get there.
Even if I caught them well the day before, I wouldn't make a cast until I heard the bluegills. If I listen to them, I'm going to fish the area more slowly. If not, I'll work the frog much faster until the fish show themselves. You can make them roll or turn and then slow down once they show themselves.
The nemesis of any frog angler is to know when to use it. How do you decide when it's time to change your approach or not pick that rod up at all?
I don't throw a frog when the skies are high after a storm and the lake's mood is low when the pressure is out of the system. In these conditions, fish tend to slap at the frog and you'll have to throw follow-up baits anyway.
Pre-front conditions create high pressure, especially before a storm… and the time leading up to the storm will only get better. It's easy to detect high barometric pressure: the birds are chirping, bluegills are incredibly active, and you can feel nature is very much alive in anticipation of the approaching storm.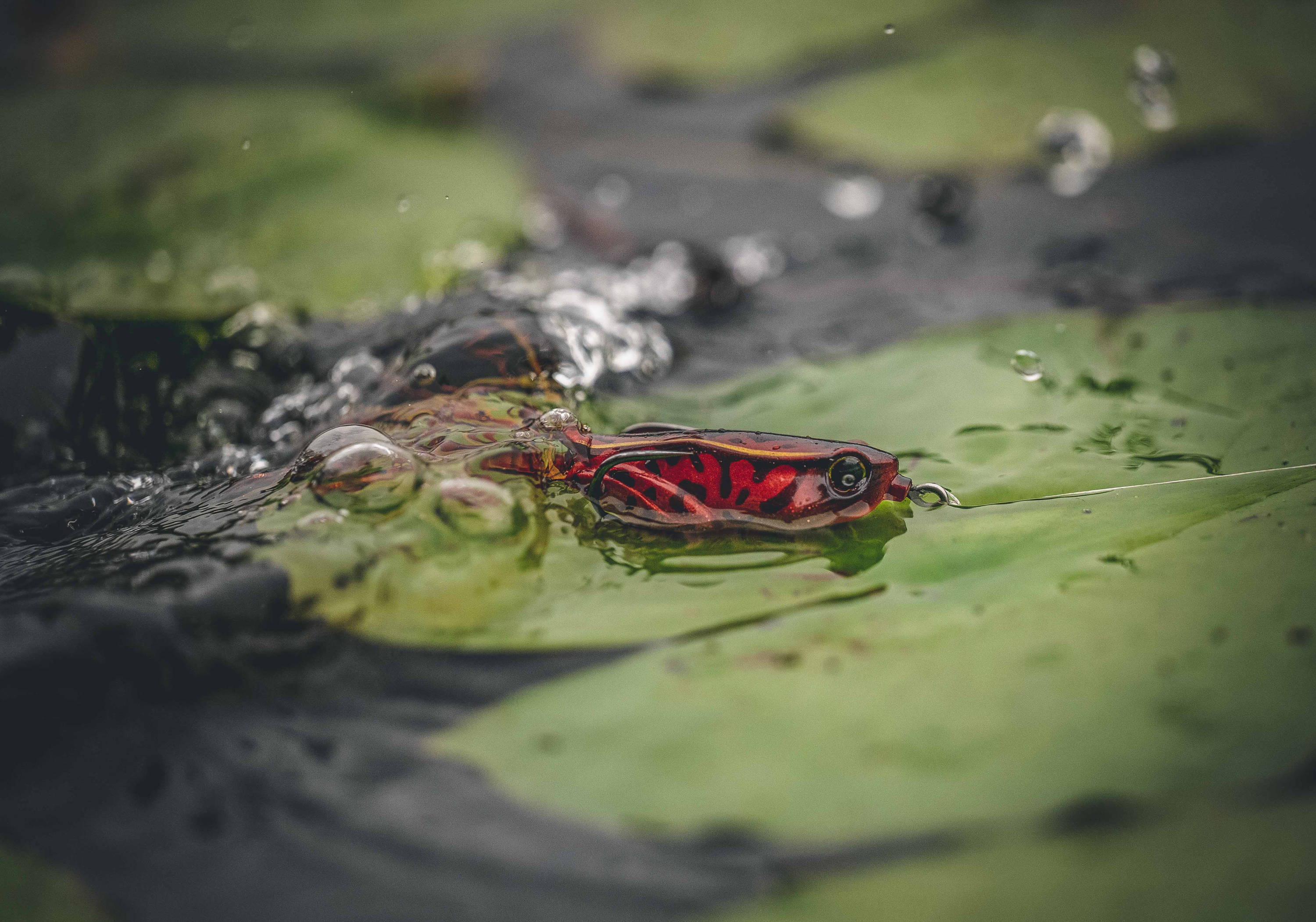 What clues indicate that you are working your frog too quickly?
The cue to slow your frog down is when they are boiling on the frog or barely taking it. You may need to adjust your cadence to get them to bite. Sometimes they'll show themselves but won't eat the frog how you thought they would. If this continues to happen, change to a Texas-rigged Senko with enough weight to get it through openings in the vegetation.
Just remember that every day is different, so you need to let the mood of the fish dictate what they want. Sometimes they want it slow, other times it's essential to wait for every ripple to stop before you move it again. That's when they'll smash it.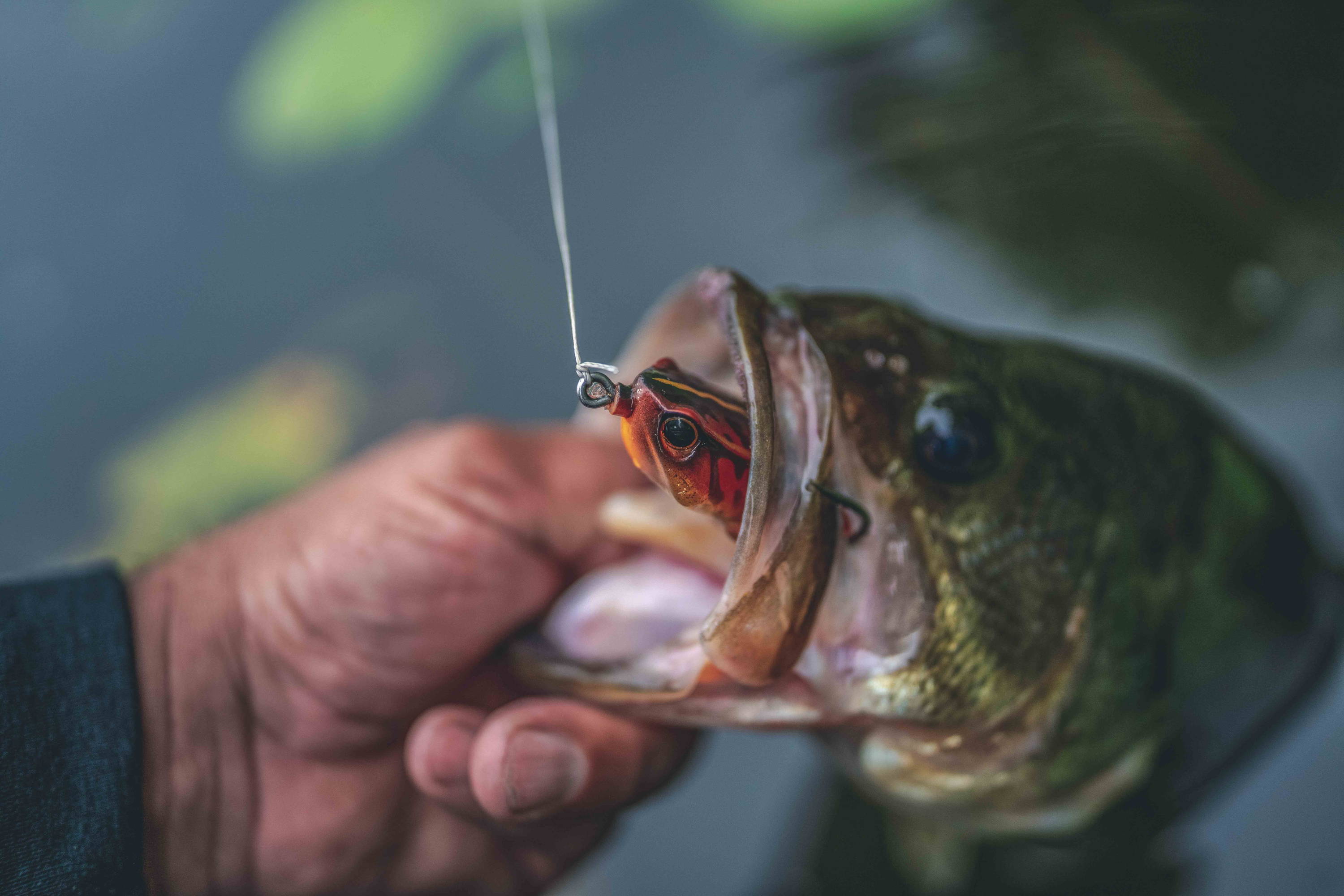 Do you tweak your frog at all?
When fishing heavy-matted vegetation or scum mats, a frog with more weight will move more water and help the bass find your frog.
You can also add weight to a frog by inserting a few split shots inside the bait's cavity. Doing this also creates a rattle effect. More weight on the mat is an advantage because you can move water when walking the bait.
When fishing thick vegetation, the legs on the frog aren't as important. However, when fishing around sparse cover, the frog will walk side-to-side much easier if you trim the legs back.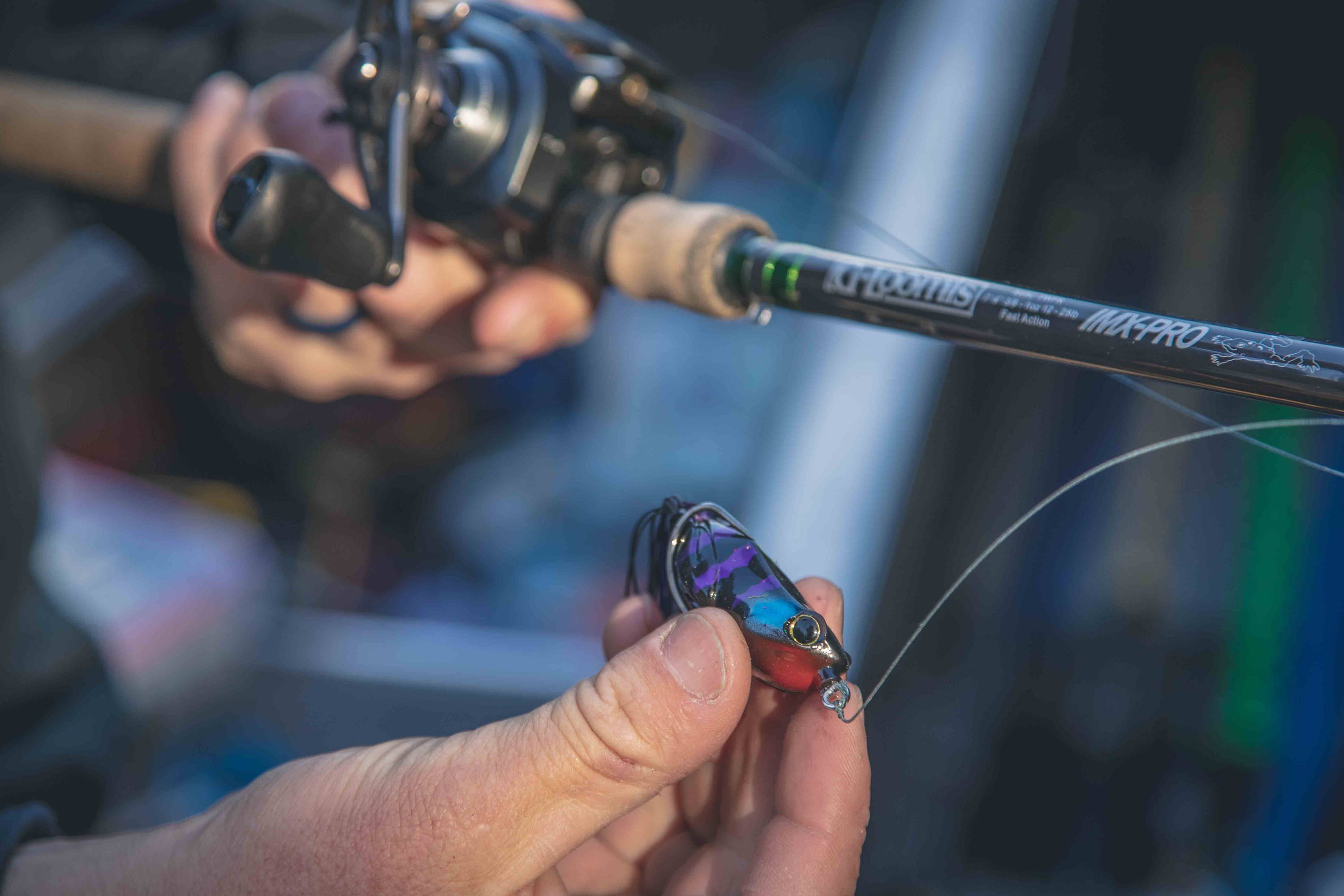 What are your thoughts on the new G-Loomis IMX PRO Frog rods?
G. Loomis perfected these frog rods. The 7'4" Medium-Heavy action rod (IMX-PRO 884C TWFR) works best when fishing a popping frog in open water. The softer tip on the 844 makes the frog walk more naturally while also enabling an angler to make pinpoint casts. I use 40-pound-test PowerPro SSV2 because it is more supple, allowing for easier castability and skipping of the popping frog.
Regardless of the size of the fish you are catching — if matted vegetation is in play — you must throw the "big stick." The beauty of the Magnum-Heavy action rod (IMX-PRO 885C TWFR) is that you can make long casts with braided line while also packing a punch on the hookset. Even better, it has plenty of power to drag those fish out of the nastiest of cover. When fishing that rod, you don't want to use anything less than 65-pound-test PowerPro because of its strength while also being able to cut the tops off the lily pads on the hookset when needed.
When fishing these IMX-PRO Frog rods it's essential to pair them with a high-speed casting reel with a large spool capacity to facilitate longer casts and quicker line pick-up on the hookset.
What advice can you offer an angler trying to improve their frog fishing skills?
Always have a frog rod on your deck. Sure, there will be tough days, but you'll also have epic days if you stick with it. Keep your head on a swivel and pay attention to the clues the fish are giving you — a mat might shake, or a baitfish or bluegill might flitter on the surface while being chased by a largemouth. When that bass does attack and you see that fish hit the frog, take a mental note about how you were moving the bait and reel down until you feel the fish's weight before giving them the beans!