Feel Connected with the Most Advanced Bass Fishing Rods Ever Designed
Anglers are only as good as their tools.
What separates contenders from pretenders? The rods they use to cast farther, detect structure and strikes better, set hooks harder, and fight fish with more authority and power than any other rod available.
Bass rod innovation reaches its apex with the new G. Loomis NRX+ series: A comprehensive lineup of 28 rods with technique-specific actions and powers designed to dominate any variable and master any condition. Born of experience and loaded with technology and purpose, these rods are designed to maximize your effectiveness on the water – so you can feel connected.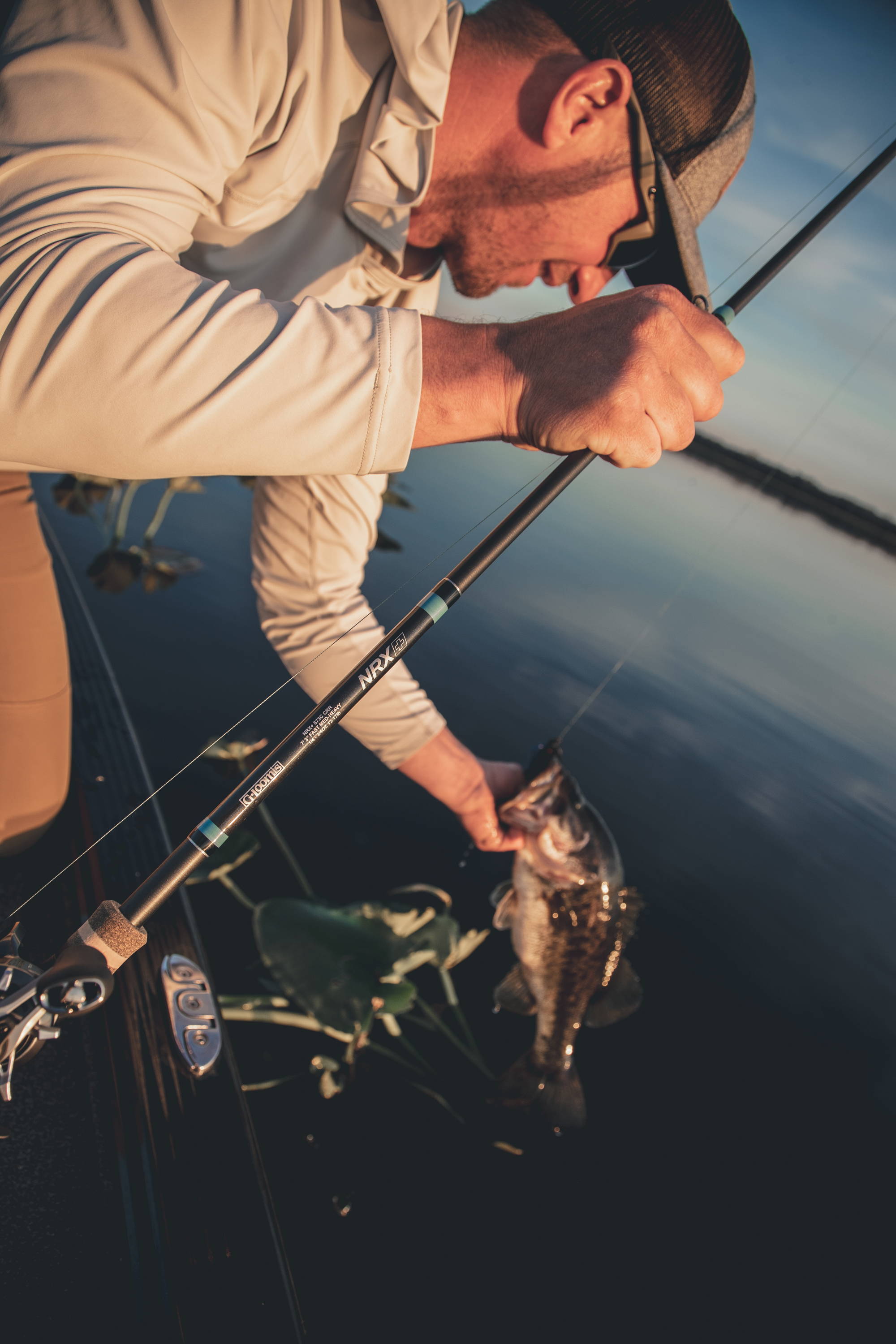 The backbone of each NRX+ rod is an American-made blank that's rolled in Woodland, Washington, and fortified with proprietary Spiral X technology. This innovative blank-building technique utilizes a triple-layer construction — a middle layer of vertical fibers matched with inner and outer layers of carbon tape that tightly wind the blank diagonally in opposite directions — to increase torsional rigidity without added weight or bulk. Spiral X technology provides virtually instantaneous power transmission when casting or fighting a fish, so you'll immediately experience increased casting distance, heightened sensitivity, and a dramatic reduction in rod weight when you pick up an NRX+ rod. 
Each NRX+ blank also incorporates innovative Multi-Taper Design to enhance durability while further decreasing the blank's weight. A series of "micro tapers" within the overall taper of the rod, G. Loomis' proprietary Multi-Taper Design process enables rod engineers to use more material on potential stress points and less material everywhere else. As an angler, you'll benefit from access to a broad library of precisely defined rod lengths, powers, and actions that strike the perfect balance between durability and performance. No matter how you fish for bass, G. Loomis has an NRX+ rod that heightens your natural angling ability.
Bassmaster Elite Series Champion Jeff "Gussy" Gustafson has been involved with the development of the NRX+ series since G. Loomis designed the first prototypes. Gussy notes that, "the most immediate improvement is just how light and balanced the new NRX+ rods are compared to everything else I've ever handled. Their sensitivity is out of this world. These are the only rods I want on my deck."
Gussy doesn't lie – G. Loomis NRX+ rods are the real deal.
Equipped with a hybrid guide train, NRX+ rods empower you to make long, accurate casts to cover more water and boost performance. Fuji Titanium stripper guides with SiC inserts are built for a lifetime of service and toughness. Ultra-light, ultra-strong RECOIL guides – made from a nickel-titanium memory alloy – return to their original shape to shrug off impacts. Gussy continues, "with as hard as I fish on the Elite series or on guide trips back home, I probably don't baby my gear the way I should. The RECOIL guides on my NRX+ rods ensure that they keep delivering long casts and overpowering big fish, no matter how many times I pull them out of the locker or bounce them around the deck."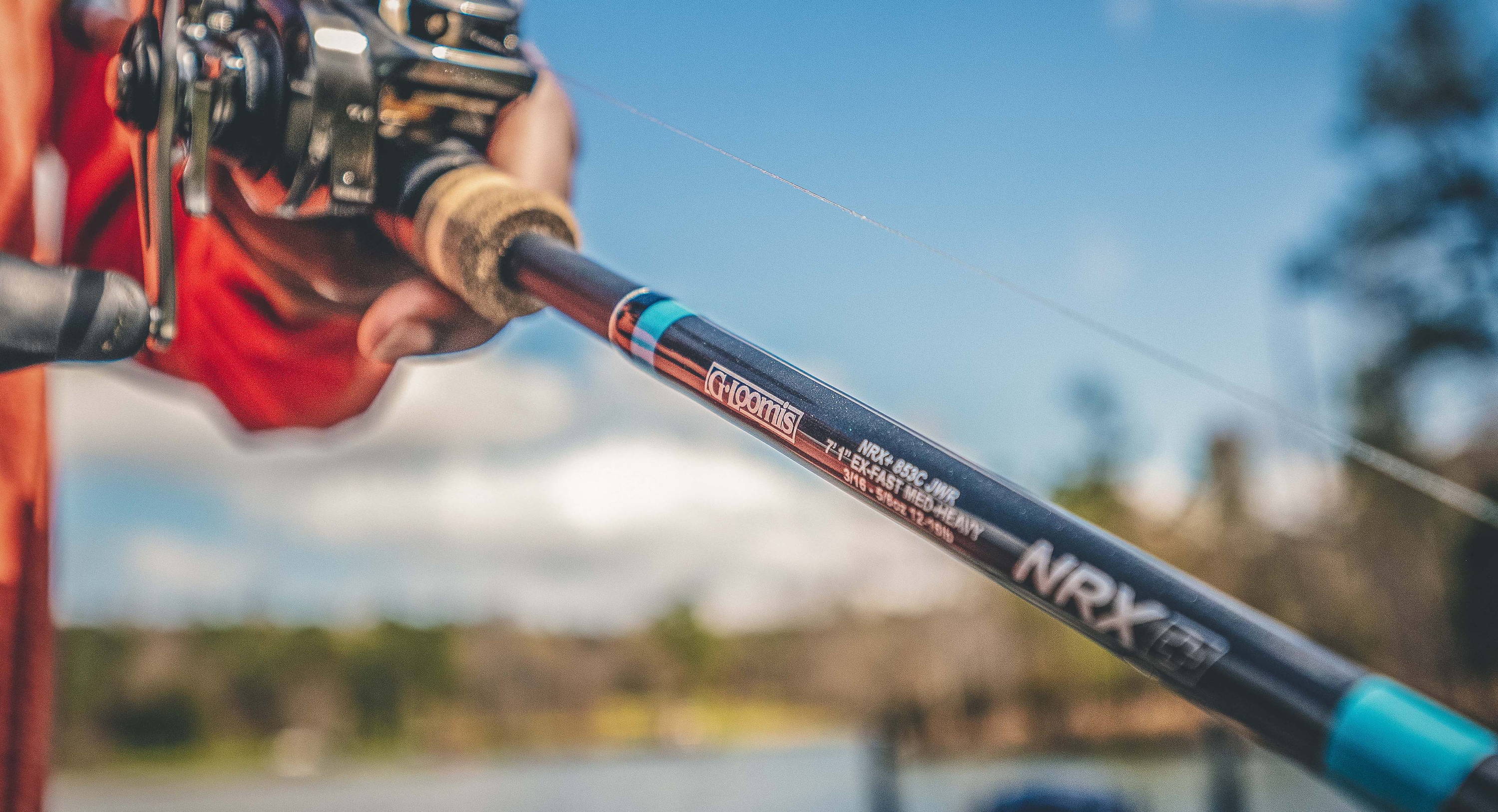 Enhancements and refinements continue along the entire length of each NRX+ rod. Solid or split-grip cork handles deliver the performance and feel that anglers expect from a premium rod. Custom-designed CI4+ casting reel seats maximize connection to the blank for unsurpassed bite detection and all-day comfort. David Brinkerhoff, G. Loomis Production Manager notes that, "ergonomically, NRX+ rods are effortless to grip. Its new reel seat design improves hooking power and reduces forearm fatigue. Rabid anglers demand and deserve the best... and G. Loomis delivered exactly that."
Fish all day, feel more bites, catch more fish, and be ready to go again in the morning? Yes, please.
Loomis rod designers draw from more than forty years of intense dedication to exceeding the expectations of the most demanding anglers. NRX+ rods incorporate only the most advanced technologies, construction processes, and componentry to craft a rod that offers true best-in-class performance. The NRX+ lineup includes 16 casting models and 12 spinning models, each precision engineered to cover the entire gamut of techniques that performance-driven anglers use to catch bass all year.
Loomis shares your obsession: catch more fish, catch bigger fish, and win. The NRX+ series is the culmination of tireless efforts to produce the most advanced bass fishing tools on the planet. Experience one today.